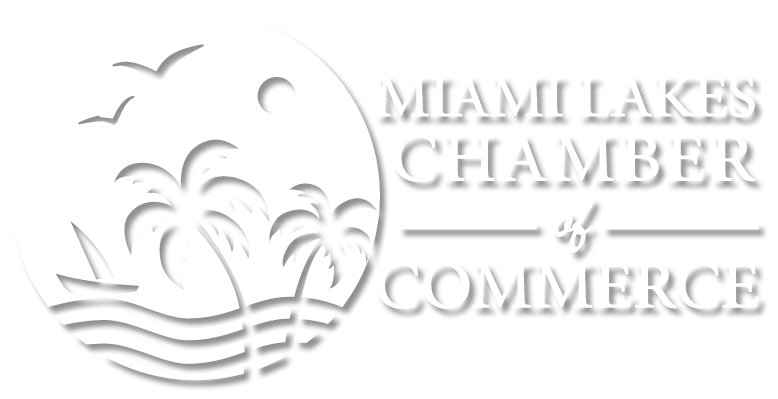 FAQ
You can also browse the topics below to find what you are looking for.
What is a Chamber of Commerce?
A Chamber is a nonprofit, membership based, business association that provides networking, marketing and advocacy services for its members.
How many members does the Chamber have?
The Miami Lakes Chamber has more than 120 members with representation from every business segment – Corporate, Industrial, Retail, Financial Services, Healthcare, Hospitality, etc.
Is the Chamber a part of local government?
No. While the Chamber works closely with the Town of Miami Lakes on matters of policy and to create a positive business environment, the Chamber is not part of Town's government.
When does "the Chamber" meet?
The Chamber schedules one monthly networking luncheon, usually the second Wednesday of every month.

The Chamber hosts a variety of special events including a Business Expo once a year.
Other than events, what does the Miami Lakes Chamber do?
The Chamber provides members with numerous marketing benefits as well as serving as an advocate for businesses. Marketing benefits include business referrals and complimentary listings in publications that are distributed to both residents and businesses.
What are different membership upgrades?
Upgraded memberships provide members with numerous marketing benefits and opportunities for added exposure for their business at a significant savings.
Click here for a complete list
.
What advertising opportunities does the Chamber provide?
Members are listed in both our website and our Annual Directory with 5,000 copies distributed in our community. It is great exposure for your business.

You will receive our e-blasts which gives members great exposure and expand their network contacts. Exposure alone increases your company's chance of getting new business.

We will send out e-blasts and social media posts at the entire membership at no charge per your membership level.
Does your business have to be located in Miami Lakes to join the Chamber?
No. Chamber membership is open to any business that has an interest in the area. Businesses located out of the area benefit just like any other members – They develop professional contacts within the membership and their products and services are promoted to their fellow members and to residents of the community.
We don't do business locally so why should I be a part of the Chamber?
You may not sell your product or service locally, but you operate your business here and that affects your bottom line. The Chamber works in many ways to develop the community as a good place to operate a profitable business. Whether it is parking or zoning issues or site plan review process, all of these issues have the potential to impact your business. The Chamber can help you stay informed and give you a voice on these types of issues.
If I join in June, is the membership active until next June?
The Chamber bills all membership renewals in January. If you join after April, you will receive a credit on your renewal proportionate to the time that you did not participate.
Does the Chamber help businesses when they have a problem with the Town?
Yes. As part of its advocacy program, the Chamber works with businesses that maybe experiencing an issue with the Town.

We'll use our excellent working relationships with Town staff and elected officials to facilitate conversations and meetings, all to work towards a resolution.
How can I find out if an area business or organization is a member of the Chamber?
Have more questions?
Get in touch
Ask A Chamber Expert. The Chamber's staff members are standing by to assist!